Integrating Personal Learning Plans Into Practice
At this point in the year, you've probably had some experience either 1) implementing personal learning plans in your classroom, 2) planning for PLP implementation, or 3) hearing about personal learning plans through your professional learning networks.
Assuming this is the case, let's consider four ideas that might broaden the conversation and the possibilities of personal learning plans as transformative learning tools for teachers and students.

Principles of the PLP Become Principles of Your Curriculum
On Team Summit, we're using a PLP template that incorporates seven elements of learning that we consider to be essential for middle level students.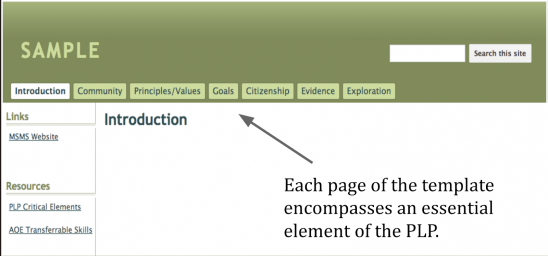 Those seven are: Identity, Community, Principles and Values, Goals, Citizenship, Evidence, and Exploration.

Each of those elements is given space within the PLP for students to demonstrate growth and learning within the context of that element.
For example, as students build knowledge and reflect on the meaning of citizenship, why not connect that to key ideas in the curriculum? For example, how did the idea of citizenship shape the Greek civilization? What does it mean to be an "active citizen" in Vermont? How are themes of citizenship woven into your classroom?

By connecting these key ideas from the personal learning plan to classroom curriculum and practice, teachers can build greater student understanding and connection to learning.

Mentoring Programs To Build Transferable and Citizenship Skills

Schools with multiple grades can incorporate student expertise with personal learning plans and associated technology into semi-formal and formal mentoring programs. Eighth graders, having years of experience with PLPs, can easily transition into leadership and teaching roles that support younger students as they create their own learning plans.

Mentoring programs allow students to develop better understanding of their own skills and create opportunities for leadership and citizenship within the building. As a result, equity of opportunity for all students can be created without leaving the school.
Use The Personal Learning Framework as a Narrative Structure
To guide students through a personal learning experience, students are asked to use the Personal Learning Framework to identify their progress through the program. In addition to helping students understand the different elements of the PLP (see above), the Personal Learning Framework provides students with guiding questions to help evaluate their growth and learning.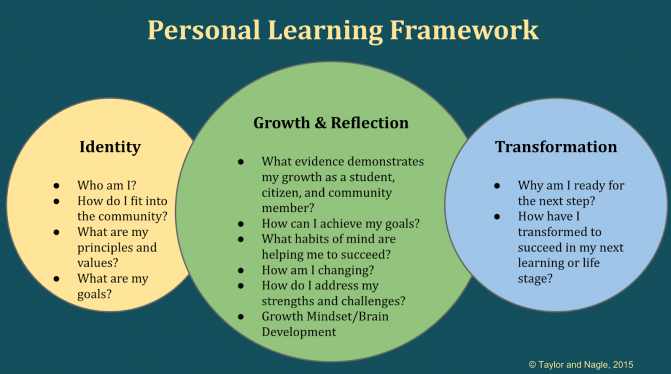 As an auxiliary exercise, students can explore their movement through the Personal Learning Framework in a narrative structure. The first part of their story can be the character development (Identity), the rising action and conflicts can be the strengths and challenges exhibited through the Growth and Learning stage, and the resolution can be a modified Transformation. Drawing on their real-life experience, students can use the Personal Learning Framework to craft their unique story.

The PLP As A Technological Maker Space

Google Sites may not be the most aesthetically pleasing or easily constructed PLP platform, but once students have the basic template, they can begin constructing or "making" their PLP into a custom online platform that reflects their academic and technological growth.

Just as students are "making" in computer labs, "making" with 3D printers, and "making" with game-based modeling, these same concepts of student-led construction can be applied to Google Sites. Creativity, graphic design, and unique elements of website construction can help students learn and demonstrate a variety of tech-based skills.