Building a Learning Community
Over the next few weeks, we'll be featuring teachers throughout Vermont as they implement personal learning in their classrooms. Today's post is by Don Taylor of Main Street Middle School in Montpelier.
Across the state, teachers and students have spent the first few days of school establishing norms, getting to know their new students and creating positive learning communities. Working with the guidelines provided by Act 77, educators are venturing into new territory on three fronts: personalized learning, proficiency-based learning, and flexible pathways. The Middle Grades Collaborative and Tarrant Institute for Innovative Education have created a model for understanding these pillars of personalized learning in support of educators and students (see graphic).
Team Summit at Main Street Middle School in Montpelier has focused the first few days of school developing scaffolded instruction aligned with the Personal Learning Framework. Students entering the Team Summit learning environment spent time framing their identity as individuals, students, and citizens (in real time and in the digital world) of the Team Summit community. This initial brainstorming will serve as the basis for the Identity section of student personal learning plans.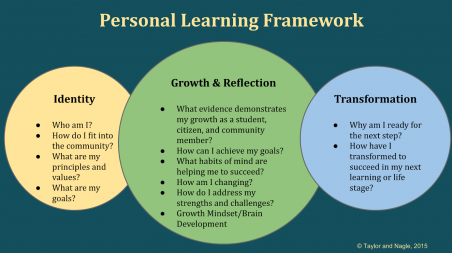 In a new development, Summit students were then asked to translate Vermont's transferable skills into student-friendly language. Students ranked the skills in order of importance and in small groups, identified the ten most important behaviors reflected in those standards. Subsequently, students will vote on the top ten transferable skills and dispositions required for success on Team Summit. Those student-selected dispositions will then become our Team Summit Constitution.
As students continue to work through the Identity stage of the Personal Learning Framework, their understanding of the transferable skills will help them to develop initial goals. This scaffolding will allow us to begin the Growth and Reflection phase earlier than in years past. Additionally, working with the transferable skills in kid-friendly language facilitates the use of common language that can be used across personal and proficiency-based learning.
Furthermore, by incorporating elements of personal learning and the PLP into the development of the learning community, teachers and students can begin building relationships based on student strengths, challenges, and goals. Building these relationships early can be a key factor in student and team success.